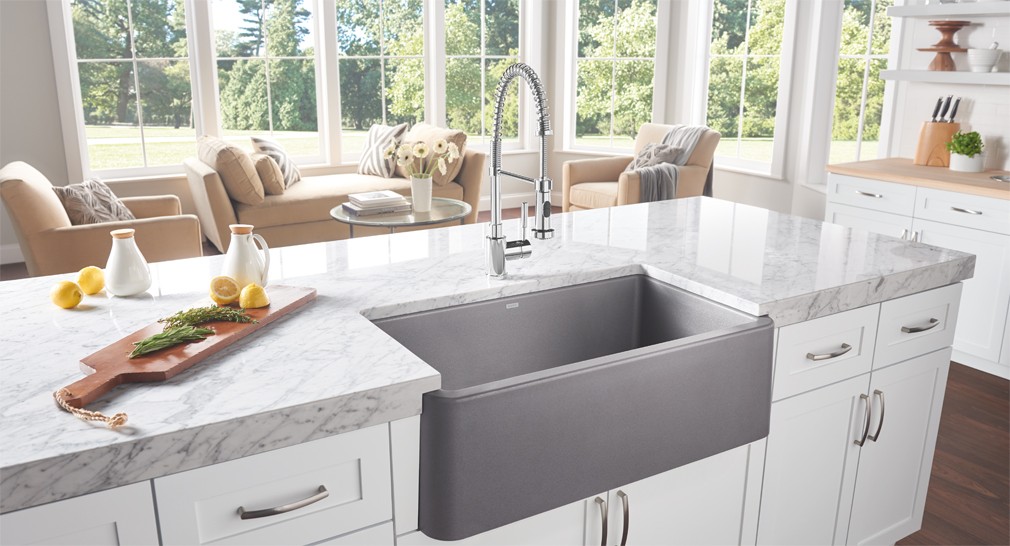 We can install any brand of sink, but we exclusively stock Blanco Silgranit® and stainless steel sinks, as well as Serenity stainless steel sinks and vanity sinks.
Blanco Silgranit®
Blanco Silgranit® kitchen sinks are beautifully designed and scientifically proven to be scratch, stain and heat-resistant, giving you the option to put your cooking to the test.
Features of a granite sink in Silgranit® :
Rock hard granite durability
Heat resistant up to 536° F
Unsurpassed cleanability backed by industry leading 7 patents
Resistant to scratches, stains and all household acids and alkali solutions
Limited lifetime warranty
BLANCO Silgranite® Diamond
Blanco Silgranit® Performa
Serenity Sinks are the workhorses of the kitchen fixture, being both elegant and easy to maintain. Offering universal appeal to compliment any lifestyle, the brushed finish Stainless Steel design of the Serenity Sinks blends seamlessly with Stainless Steel appliances ~ the worldwide standard for chefs.
Each sink is produced from premium T304 commercial grade stainless steel, allowing it to resist corrosion, oxidation and rust at a much higher level than sinks made from lesser grade stainless steel. In addition to the quality of the material, Serenity Sinks are considerate of the noise level in your kitchen. The bottom of each sink has a sound deadening pad and is also coated with a thermal spray in order to maximize the sinks ability to cushion sound and retain heat.
Our sinks come in several combinations to suit any kitchen. No matter what your design style, we have a sink to fit your needs. Single Bowl, Double Bowl, prep and bar sinks; we've got you covered. Serenity Sinks come standard in 18-gauge and heavy-duty 16-gauge thickness.